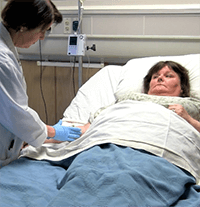 The goal with vascular access devices is to provide a means to safely administer medications to a patient for the duration of required therapy. In order to do this, we must keep these vascular access devices functioning without occlusions, infections, or complications.
This program reviews the daily best practices for vascular access devices to prevent infection and complications. Specifically, we review the importance of cleansing:
Hands
Skin
Use of clean gloves
Disinfection of access hubs
We also review the daily procedure for assessing:
Insertion site
Dressing
Catheter function
Signs of infection/complications
Also, we provide a detailed review of the basics of flushing a catheter to keep it clear of medications and blood, in an effort to eliminate complications.
To purchase Safe IV Patient Care, click and follow the prompts to the cart.
SAVE ! This class is included in the Infection Prevention Bundle, along with 3 other courses for your yearly requirement (per SHEA guidelines) for a reduced price of $125.00.
OR
SAVE !! the Safe IV Patient Care class is also included when you purchase the Care & Maintenance Bundle, along with 5 other courses for a reduced price of $235.00.